Leader® M12 3 Pin Waterproof Cable Connector is for 3 pole M12 male panel, rear mounted, wire to panel connector.
It can be applied in PV inverter, Electric vehicle, Medical equipment, Interactive Smart Grid, Automation machine, Industrial PC, Marine device, Outdoor LED display, Outdoor LED lighting, etc.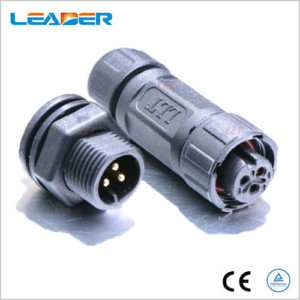 Specification of M12 3 Pin Waterproof Cable Connector
M12 3 Pin Waterproof Cable Connector
Contacts No
1
2
3
4
5
6
7
8
Voltage rating
110V
110V
110V
110V
60V
60V
60V
60V
Current Rating
5A
5A
5A
5A
3A
3A
3A
3A
Wire Gangue
<=1.0mmsq
<=1.0mmsq
<=0.75mmsq
<=0.5mmsq
<=0.3mmsq
<=0.2mmsq
<=0.2mmsq
<=0.2mmsq
Mechanical life
3000 mating cycles
Operating rating
-40 degree — +105 degree
Waterproof level
IP 67
Pin layout
2 Pole
3 Pole
4 Pole
5 Pole
6 Pole
7 Pole
8 Pole
9 Pole
Cable range
3.5mm -7.5mm
Certifications
Leader technology Co.,Limited obtains TUV,CE,RoHS and other certifications. TUV certification prevents personal injury and property damage may caused during use connector,including electric shock, overheating or fire hazard, mechanical aspects of hazardous, radioactive hazards and chemical hazards.CE mark is a safety certification mark,it is considered as the passport to open and enter the European market for manufacturers. CE on behalf of Conformite Europeenne. RoHS is a mandatory standard developed by the EU legislation, which stands for 'Restriction of Hazardous Substances'.It mainly used to regulate the materials and process standards of electrical and electronic products,making it more conducive to human health and the environment.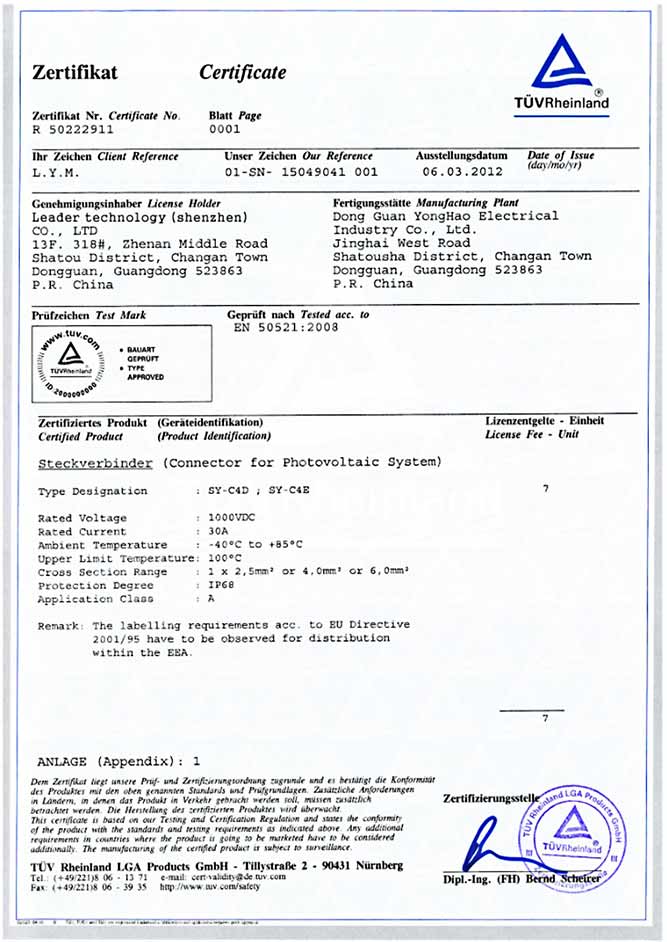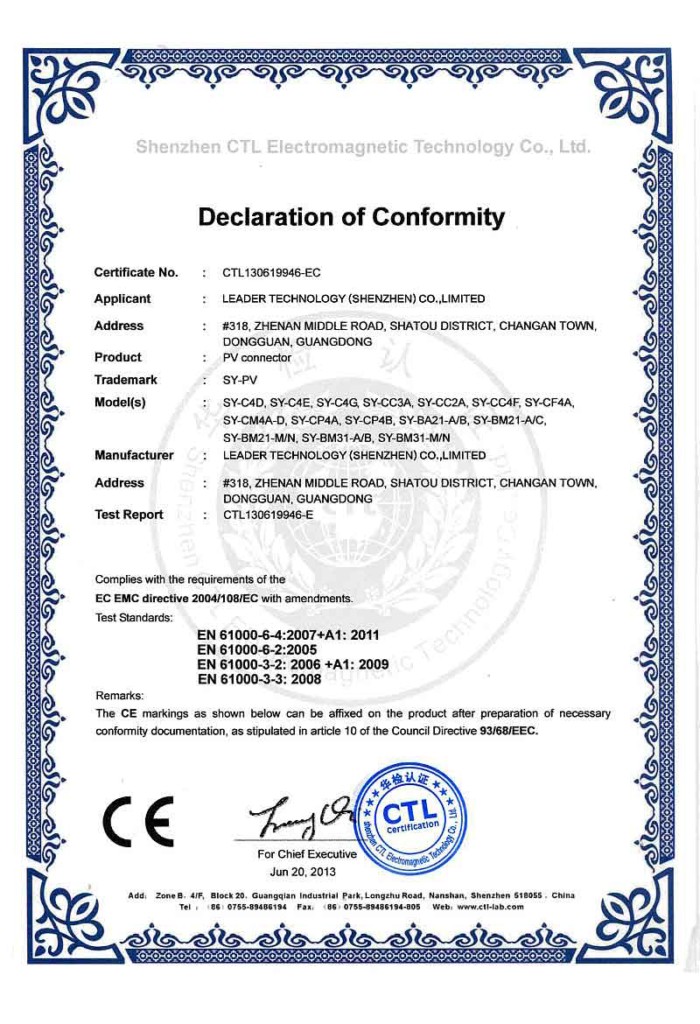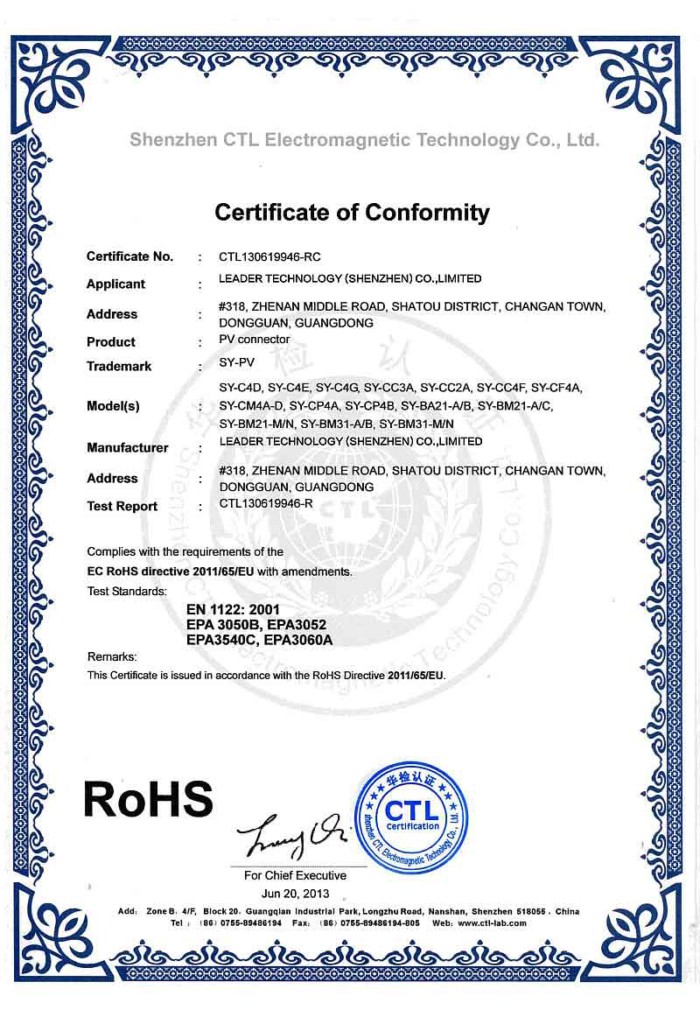 Production Processes of Cable Connector
First of all,we need to die casting pins.Then,inject plastic into it.Next,use machine to assembly positioning shrapnel.Fourth,auto assembly O-ring and connector.After assembly,it's the processes of testing.Firstly,test its resistance.Secondly,test its pull. Thirdly,test its water proof.What's more,test its wet insulation.At last,plastic closures and package.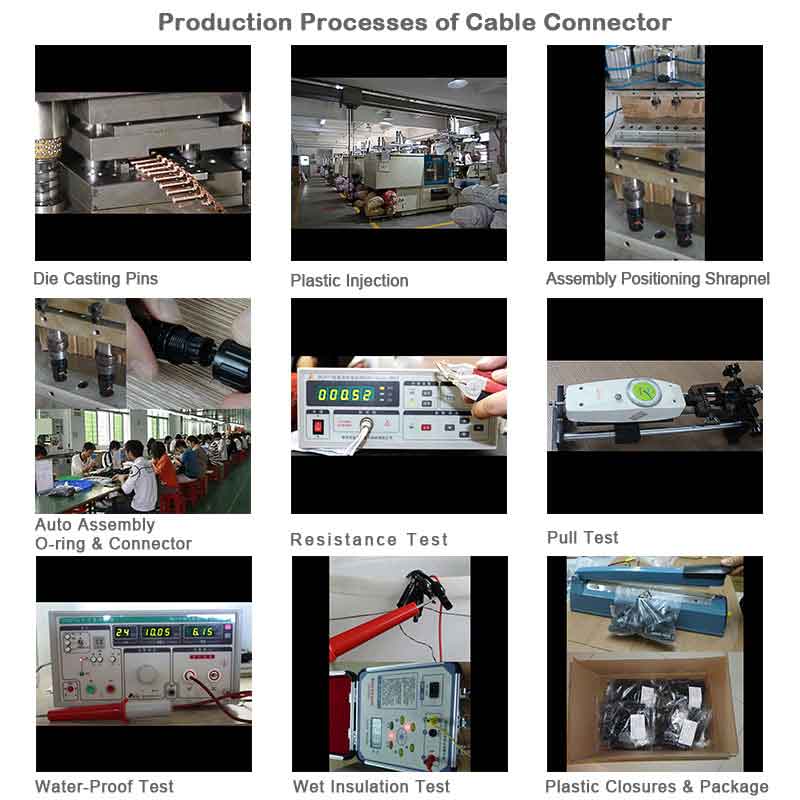 Contact us now, Free sample is available
More info about our company and our products, please feel free to contact with us, our team is ready to support you.
Mobile phone/whatsApp:

+86-136-4291-9927
Phone: +86-769-3335-6021
Mail ID : leader-tech1998@outlook.com
Skype id :lily-zou2011